Open up your world with Broadband
Whether you are wanting to keep in touch with family and friends via email, looking at the latest photos or streaming and watching the latest film or TV show, our Broadband service will have you connected simply and quickly.
Sign up with the ACN 2degrees Broadband plans to receive the best option available to your home on our competitive call plans.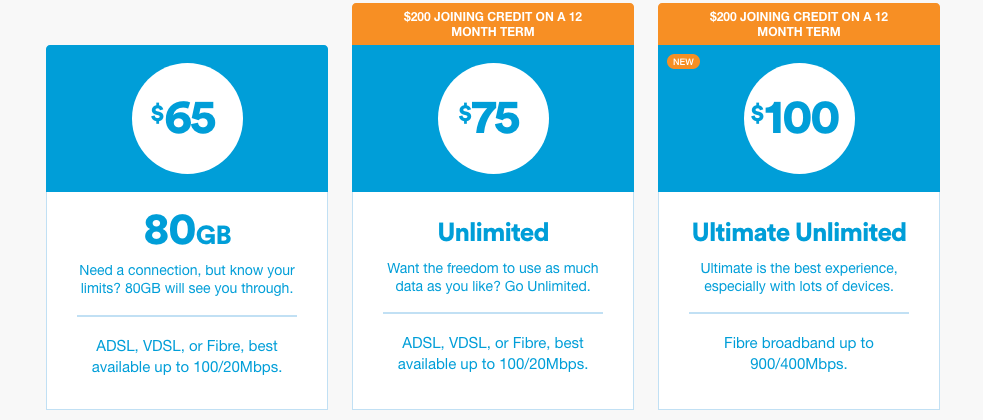 Free standard install
Don't worry about pesky connection costs, we'll take care of that. Join any 12 month plan and your standard install and connection are free.

Bundle and save
Save up to $120 a year if you have your home broadband and mobile Pay Monthly Plan with us.

Backup Broadband
We're here to keep you online all the time, so we'll add extra data top your 2degrees mobile, if you need it to keep your home connected.

Kiwi customer care
Our award-winning Kiwi customer care team are here to help when you need it, just call 0800 022 022
Terms & Conditions
2degrees Fair Use Policy applies. Standard NZ & Australian landline calls.
$15 delivery charge applies if receiving a 2degrees modem and/or 2degrees Home Phone.
Additional charges may apply to non-standard installations.
Standard fibre connection is up to 100/20Mbps. Stated speeds are based on theoretical maximums, and actual speeds will vary.
To get the best possible performance with 2degrees Ultra-fast Fibre, we recommend:

Using a high-spec modem, such as a 2degrees Modem (model 7490).
A high-spec laptop or PC cabled directly into your modem with an Ethernet cable, and ensure all your laptop or PC's drivers are up to date, and nothing else is running on the internet connection at the same time.
The latest version of your browser.
Accessing the internet over a wired connection.

Unlimited* NZ and Australia Landline Calling includes direct dial calls made from your home phone to standard landlines in NZ and Australia (excludes chargeable calls, e.g. calling cards and premium numbers, 0900 (and any international equivalent), 059, 0161, Australian toll-free numbers (such as 1800, 1300) and toll-free numbers in other countries, and calls to mobiles). Fair Use Policy applies to this service.
Joining credit offer ends 17/02/19, available with a 12 month Unlimited Data Broadband Plan. Not transferable, exchangeable or redeemable for cash. Not available with any other offers, except with the $10 Bundle Discount added during sign-up with eligible Pay Monthly mobile plans. Charges may apply for non-standard installations. Fibre broadband not available everywhere. Charges of up to $165 apply if you fail to return your leased modem when you leave 2degrees.