IBO Training Events
Training events run by IBOs for IBOs.
The key to any successful business is keeping up-to-date, staying active and maintaining momentum. The best way to achieve this in ACN is by attending IBO training events and learning from some of the best in the biz!
Scroll down to find the IBO training events in your city and on Zoom.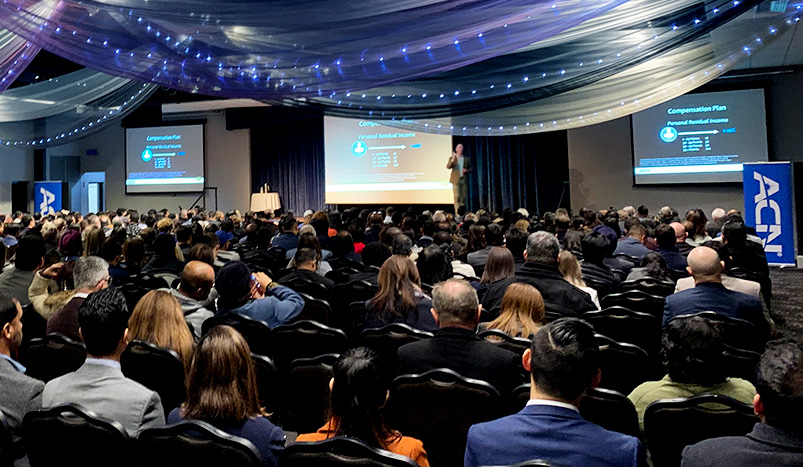 Weekly Business Overview Meeting (Nth Brisbane)
Every Monday
Time: 6.30pm-7pm
Venue: Redcliffe Library 476 Oxley Ave Redcliffe, QLD 4020
Cost: Free for IBOs and Guests
Content: 
Business Overview
MPower Guest Overview with RVPG Srimi van Rossum (Virtual)
Every Monday
Time: 7:00pm AEST/AEDT
Content: Business Overview
Zoom ID: 352 6833 119
Password: 2023
MPower Product Information & Updates with RVPG Srimi van Rossum (Virtual)
Every Monday
Time: 8:00pm AEST/AEDT
Content: Product Information & Updates
Zoom ID: 352 6833 119
Password: 2023
Live Zoom Business Presentation with SVP Karen Rostagno (Virtual)
Every Monday & Thursday
Time: 8:00pm AEST/AEDT
Content: Business Overview
Contact:

Karen Rostagno

(VIC

)
Business Overview with RVP Ann Holdsworth (Perth)
Every Tuesday
Time: 6:30pm – 7:00pm
Venue: Perth Premium Cars, Unit 1, 79 Hector St, Osborne Park
Cost: Free
Content: Business Overview
Business Opportunity Meeting with SVP Phuong Nguyen (Sydney)
Every Tuesday
Time: 7:00pm
Venue: Ramada Hotel, 161 Hume Hwy, Cabramatta NSW 2166
Cost: Free for Guests | IBOs $5
Content: Business Overview
Business Overview Meeting with RVPs Srimi van Rossum and Yane & Erik Brito (Sydney)
Every Wednesday
Time: 7:30pm
Venue: Canterbury RSL Club, 20-26 Canterbury Rd, Hurlstone Park
Cost: Free for Guests | IBOs $5
Content: Business Overview
Please Note: Valid ID is required to enter the RSL Club
Weekly Business Training with RVPs Srimi van Rossum and Yane & Erik Brito (Sydney)
Every Wednesday
Time: 8:00pm
Venue: Canterbury RSL Club, 20-26 Canterbury Rd, Hurlstone Park
Cost: Free for Guests | IBOs $5
Content: Compensation Plan & Team Building
Please Note: Valid ID is required to enter the RSL Club
Business Overview & Quick Start Training with SVP Phuong Nguyen (Virtual)
Every Wednesday
Time: 8:00pm AEST/AEDT
Content: Business Overview & Quick Start Training
Live Zoom Business Training with SVP Karen Rostagno (Virtual)
Every Wednesday
Time: 8:00pm AEST/AEDT
Content: Live Zoom Business Training
Contact:
Karen Rostagno (VIC)
Weekly CORE Training with QLD Leaders (Virtual)
Every Wednesday
Time: 7:00pm AEST
Content: CORE Training
Zoom ID: 8818 636 4782
Contact: 
Tony Burns 0447 037 255 (QLD)
Live Zoom Business Presentation with SVP Karen Rostagno (Virtual)
Every Monday & Thursday
Time: 8:00pm AEST/AEDT
Content: Business Overview
Contact:

Karen Rostagno

(VIC

)
Business Overview with RVP Ann Holdsworth (Perth)
Every Thursday
Time: 6:30pm – 7:00pm
Venue: Perth Premium Cars, Unit 1, 79 Hector St, Osborne Park
Cost: Free
Team Elite Business Opportunity Meeting (Virtual)
Every Thursday
Time: 8:00pm AEST/AEDT
Content: Business Overview
Zoom ID: 821 1375 1252
Contact: 
Ayden Toma (VIC)
MPower Friday Night Leadership (Virtual)
Every Friday
Time: 8:00pm AEST/AEDT
Content: Leadership Training
ACN Pacific Business Presentation in Spanish (Virtual)
Every Saturday
Time: 10:00am (ACST/ACDT)
Content: Business Overview in Spanish
Contact:
Mario Alcántara (SA)
Live Zoom Business Training with SVP Karen Rostagno (Virtual)
Every Saturday
Time: 12:00pm AEST/AEDT
Content: Live Zoom Business Training
Contact: 
Karen Rostagno (VIC)