Hi everyone,
Firstly, Happy New Year! 2020 was an unexpected year for all, to put it lightly, with 2021 continuing a similar trajectory globally. At Sphere we've taken the time early in the year to reflect just how fortunate we are to be in Australia right now, as well as putting together our motto for the year of 'Remaining positive and controlling what we can control'. Typically, a key to success is being able to turn a negative into a positive and to be able to handle the pressure, this is what we will strive to achieve for all our IBO partners and merchants in 2021.
2020 Activation Contest Winners:
We ran an Activations Contest in the last quarter of 2020 for IBOs with 1st, 2nd & 3rd cash prizes for the highest quantity of activations on leads submitted between October 17 – December 12 and activated by December 31. Getting Tyro to market, as well as COVID restrictions, had an impact on the competition, however, what we are going to do instead is give $100 to each IBO that made it to the top of our leader-board. Congratulations and thank you very much to the following IBOs who will each receive $100!
Kai Furstenau
Leah Gunder
Tim Kessel
Evelyn Nissan
Vipul Kumar Vyas
Andrew Goldthorpe
Karla Morrison
Madhu Panthee
Sladan Vujicic
Steven Ball
Lina Harb
2021 Tyro Promotion:
Now that we are settled into 2021, we are going all out on signing up new customers with amazing offers. Below is the offer we have in market right now for all new to Sphere and Tyro customers: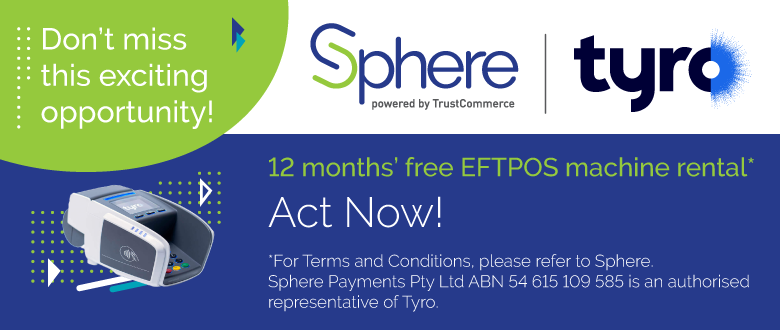 That's right, any new customers you sign up between now and 31 March, may be eligible for this incredible 12 months of free EFTPOS machine rental offer! Coupled with the fact that Tyro's solution has no lock-in contracts, there is no better time than now to support your customer's business with a Tyro machine and run it alongside a current solution to see if we can save them money and give them an efficiency gain. So, put those leads in and speak to your Sphere Account Executive about whether your merchant can qualify today!
Sphere's Monthly Tip:
Lastly, I wanted to provide a tip on generating EFTPOS customers this month:
Surcharging – This is where the cost of taking the transaction is passed on to the customer that is making the transaction. Now more than ever, businesses are looking for ways to save money and may not have considered this as a way of saving money. Surcharging usually doesn't have great success when pitching to Retail merchants (such as fashion stores, newsagents etc) but tends to have a better uptake in the Hospitality space (think restaurants, cafes, coffee shops etc). If this is something your leads might be interested in, drop it in the notes section when you submit your lead!
For those looking to familiarise themselves with Sphere, please click here for our IBO Instructional Selling Booklet. If you haven't submitted a lead to us before, below is the process you can expect when working with Sphere: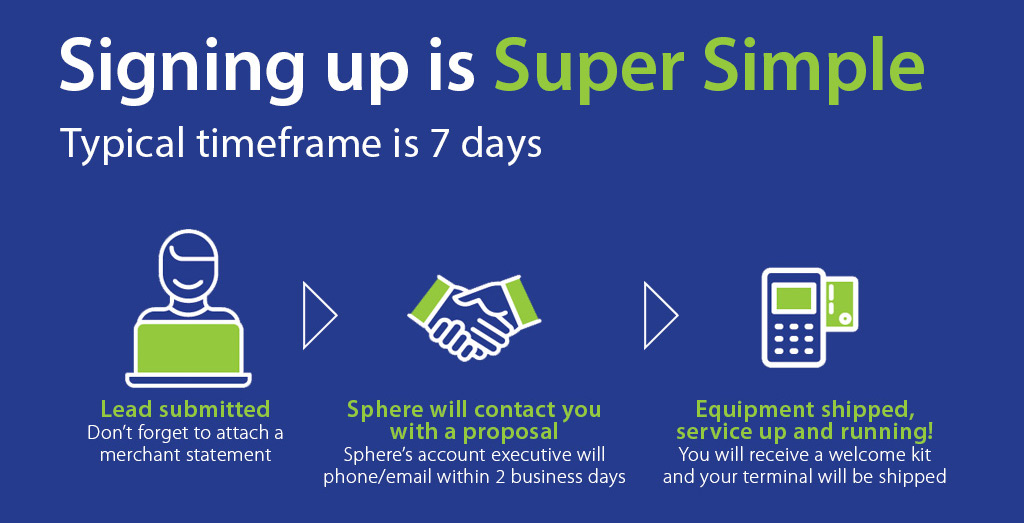 T&Cs apply. Activation typically takes 7-10 business days. Applications are subject to credit checking. For the best solution and savings, it is recommended that a merchant statement is attached to the application.
Thank you for taking the time to read this post. You can find us on Facebook @SphereChannelsPacific if you had any feedback. Otherwise, until next time stay safe and happy referring!
Jonathan Harley, General Manager